There has been an ongoing conversation about Positive Train Control (PTC) in Washington state and elsewhere around the country. At BNSF Railway, we have been a leader in implementing PTC and the company began developing PTC well before Congress mandated it. We are fully committed to implementing PTC as nothing is more important to us than safely operating through the communities that we serve. PTC serves as an important component of our already very robust safety program.
BNSF has moved with urgency to implement PTC and has continued to move forward as fast as practicably possible.  PTC is one of the most complex systems ever implemented by the railroad industry that has been built and refined as it has been installed.  During installation, there have been numerous technological challenges and we have overcome those as we have discovered them. We are committed to implementing PTC as soon as possible, but we want to make sure it is done right.
PTC is technology that overlays existing train hardware and software, designed to stop trains before certain types of accidents occur. PTC will help prevent train-to-train collisions, enforce speed limits, protect roadway employees and equipment and prevent the movement of a train through a switch in the incorrect position.
Essentially, PTC uses GPS, Wi-Fi and high-band radio transmission to:
Determine the location, direction and speed of the train
Warn the train crew of a potential problem
Take action by stopping the train if there is not a response by the train crew.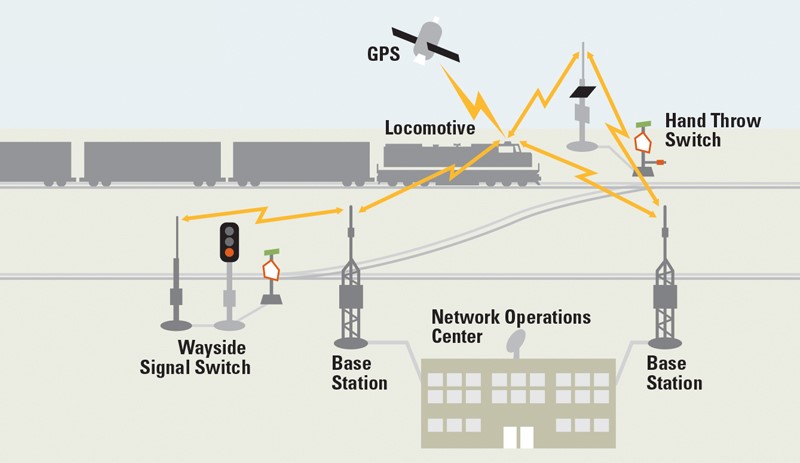 Where does BNSF operate PTC?
Currently, BNSF is the only Class I freight railroad to have completed the installation of PTC on all of our mandated subdivisions. Within our mandated subdivisions, including in Washington state, 90 percent of BNSF's trains are now running on PTC. We continue to test the system in advance of the Dec. 31, 2018 deadline. Testing is a critical part of the PTC implementation once the technology has been installed on our tracks and locomotives. We have also run more than 800,000 successful PTC trips.
In Washington, BNSF has installed PTC on more than 970 miles of track, which includes our Spokane, Bellingham, Columbia River, Fallbridge, Lakeside, Scenic and Seattle subdivisions. Overall, the scope of BNSF's PTC installation includes installing PTC technology on 5,000 locomotives and 11,300 miles of track.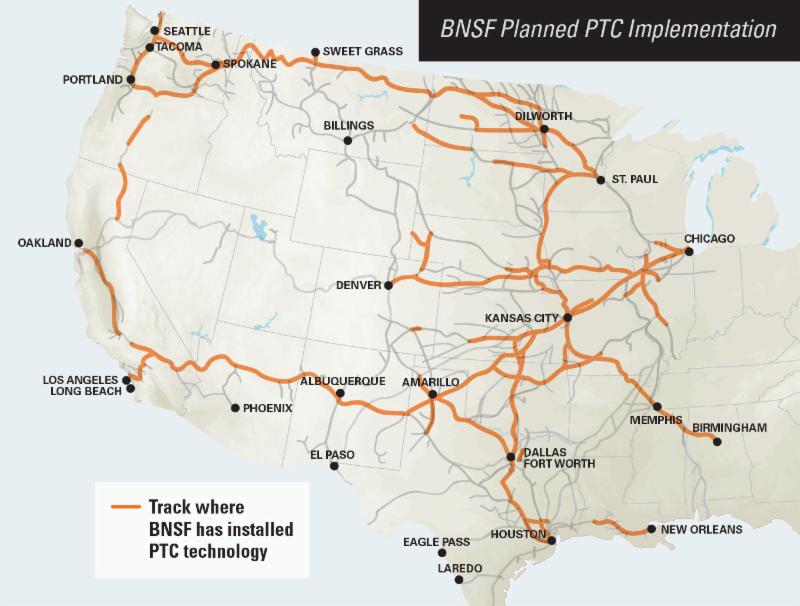 How does passenger rail fit in?
As part of our process, BNSF must address not only the issues of implementing PTC for freight service, but also the unique equipment, software and integration involved with passenger railroads and non-BNSF locomotives that operate on our tracks. Implementation cannot be complete until interoperability with the other railways is complete. We are unable to test interoperability on a wide scale until other railroads have also completed their infrastructure installation.
While each railroad, be it passenger or freight, maintains its own system, the industry has committed to using similar technology standards. Coordination is key and in Washington, BNSF has a strong collaborative effort among its partnering agencies involved in the implementation of PTC. Every railroad is required to have their own PTC system that is interoperable with other railroads' PTC systems. In Washington, for passenger trains that run on BNSF tracks, they will not be operating with PTC until the appropriate agencies have completed their own PTC installation.
We look forward to working with other railways and partners, including those in Washington state, to expand interoperability. BNSF is on track to meet the Dec. 31, 2018 deadline for PTC implementation and we continue to work closely with the FRA, and other railroads to ensure PTC enhances rail safety wherever it operates.