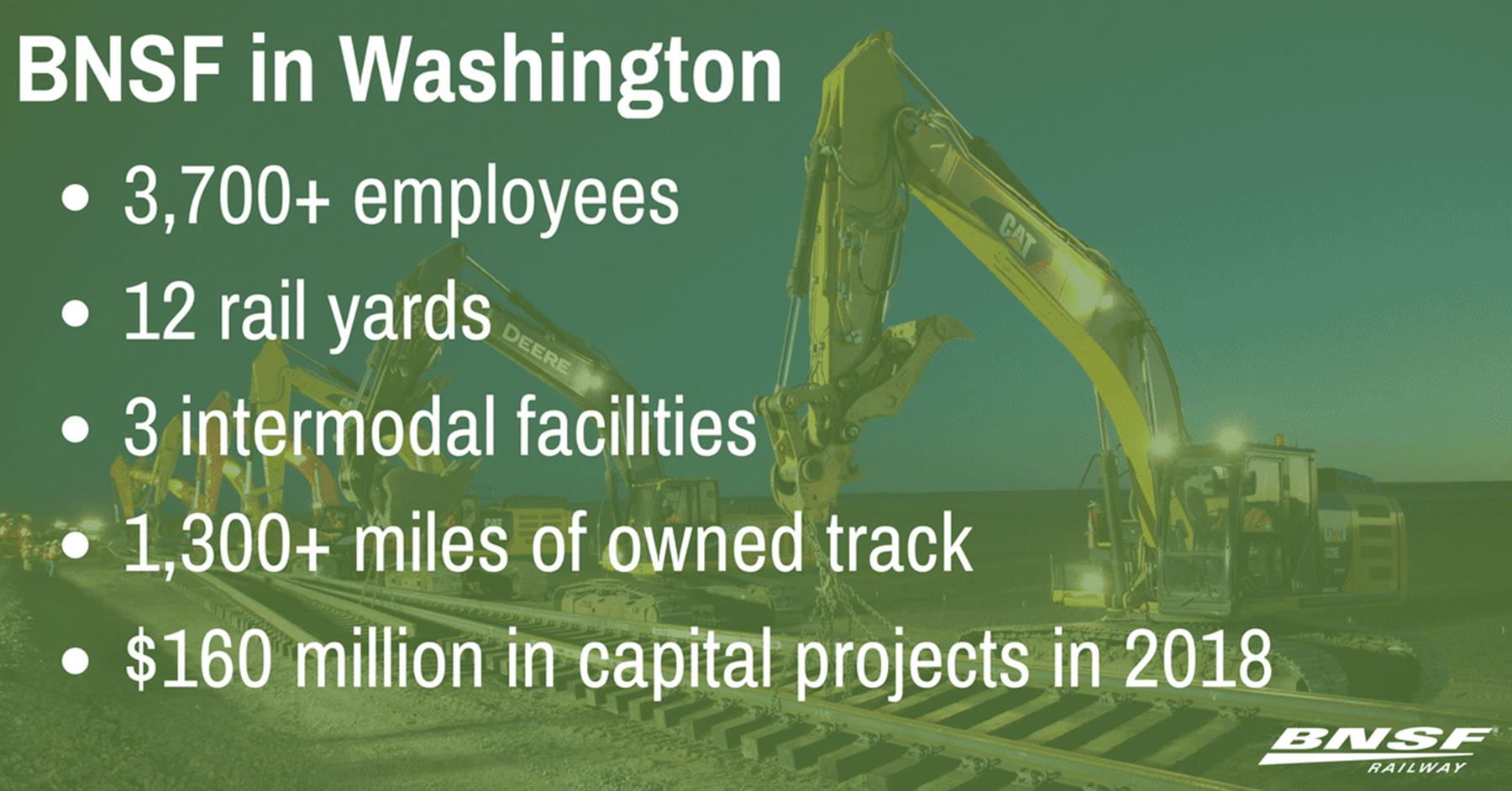 BNSF recently announced that its 2018 capital expenditure program in Washington will be approximately $160 million. To ensure BNSF continues to operate a safe and reliable rail network, this year's plan in Washington remains focused on maintenance projects. The largest component of this year's capital plan in the state will be for replacing and upgrading rail, rail ties and ballast, which are the main components for the tracks on which BNSF trains operate. Keeping the network infrastructure in optimal condition reduces the need for unscheduled service work that can slow down the BNSF rail network and reduce capacity.
"Freight rail helps connect local businesses with the global supply chain. This is particularly critical in a state where 40 percent of all jobs are tied to trade," said Zak Andersen, vice president, corporate relations. "Whether its agricultural products moving to markets overseas or lumber and construction materials moving into other U.S. markets, we remain focused on operating a safe, reliable and efficient railroad for our customers and the end consumer."
Over the past five years, BNSF has invested approximately $940 million to expand and maintain its network in Washington. This year, the maintenance program in Washington includes approximately 490 miles of track surfacing and/or undercutting work as well as the replacement of about 40 miles of rail and close to 230,000 ties. Along the Fallbridge Subdivision, BNSF plans to install new double-track between Washougal and Mt. Pleasant. The company will also begin to install new double-track along the Spokane Subdivision between Hauser, Idaho and Spokane. Two bridge replacement projects are also slated to begin this year in Home Valley and North Bonneville. The construction of a new unloading track and additional parking capacity at the Orillia Automotive Facility is also planned for 2018.
The 2018 planned capital investments in the state are part of BNSF's $3.3 billion network-wide capital expenditure program announced last month. These investments include $2.4 billion to replace and maintain core network and related assets, approximately $500 million on expansion and efficiency projects and $100 million for continued implementation of Positive Train Control (PTC). BNSF is the only Class I freight railroad to have completed the installation of PTC on all its federally mandated subdivisions and is currently running hundreds of trains daily with PTC as it tests revenue service across its mandated territory. Another element of its capital plan will be $300 million for freight cars and other equipment acquisitions.