November 2021 • The latest from the Pacific Northwest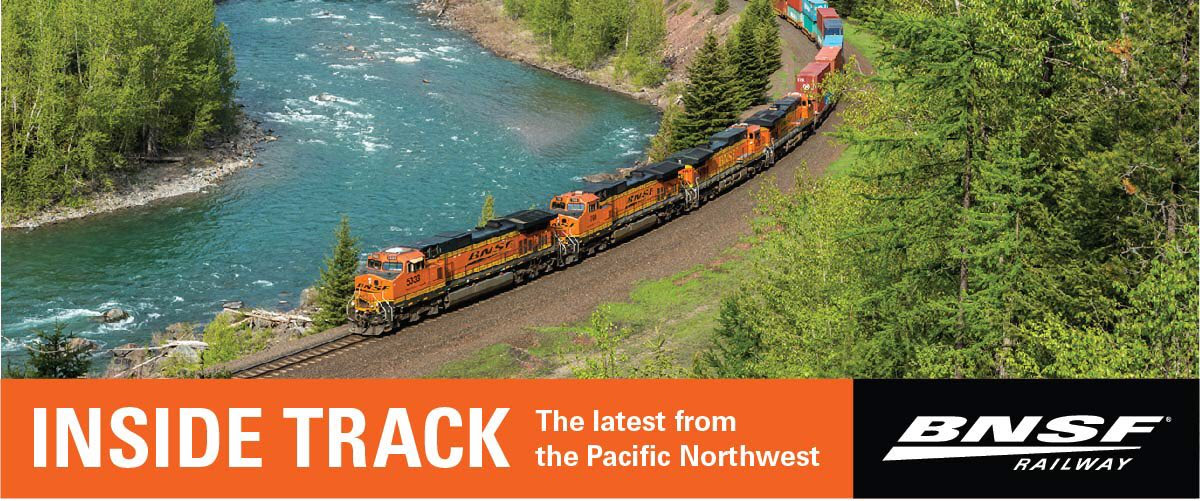 Keep Sandpoint Rolling: How a New Rail Bridge Brings Economic Benefits to Local Community
The Sandpoint Junction Connector bridge project has been a boon to the regional economy around Sandpoint, Idaho. When complete, the SJC bridge project will double the track on BNSF's existing line by constructing a second rail bridge over Lake Pend Oreille and adding new bridges over busy Sandpoint streets.
Many North Idaho businesses such as Mountain Metals and Oxarc are participating in various aspects of the bridge construction, which has been particularly beneficial during the uncertain times of the pandemic when some construction projects have paused. Local companies are pre-fabricating cross bracing for the bridge piers and supplying welding supplies, industrial gasses, safety equipment, and other items.
Learn more about the project and how local businesses are playing an important role here.
Tim Wilson, owner of Mountain Metals
2021 Gorge Rail Summit Connects Leaders and Industry Professionals
Thank you to all who attended the virtual Gorge Rail Summit on October 12! This year's event featured a keynote address from Washington State Representative Andrew Barkis and presentations from industry experts such as Brett Porter on renewable diesel, Michael Cleveland on battery electric locomotives and yard equipment, Paul Cristina on infrastructure and public projects, and Justin Piper on rail safety and wildfires.
BNSF is grateful to have been joined by state, local, and Tribal leaders; industry professionals; and others who participated in these important discussions on the latest rail news and impacts to our region.
Supporting Our Communities
The BNSF Railway Foundation invests in the communities across the 28 states through which BNSF operates, and where BNSF employees live, work and volunteer. Recent donations include:
Building Strong Communities Throughout the World and Close to Home
United Way advances the common good in communities across the world. The organization's focus is on education, income, and health—the building blocks for a good quality of life. The solutions United Way creates for communities go beyond short-term charity for a few. There are nearly 1,800 local United Ways globally.
In October, BNSF Railway Foundation carried out a national United Way giving campaign, including donating a total of $55,500 to United Ways in Idaho, Oregon, and Washington.
BNSF's Hump Yards are Key to Getting Goods to Their Destinations
BNSF Railway is one of North America's leading freight transportation companies and a critical part of the supply chain that moves goods throughout the country. In 2020, BNSF shipped 9.4 million carloads of agricultural, consumer, and industrial goods. Have you ever wondered how BNSF sorts and groups those millions of freight cars?
BNSF operates eight hump yards across America, including one in Pasco, WA. Hump yards, also known as classification yards, are generally segmented into three parts: the receiving yard, the classification bowl, and the departure yard. A manifest train carrying mixed freight enters the receiving area and prepares for sorting by climbing a small artificial hill on the lead track. At the crest of the hill, a single car or a block of cars intended for a specific destination track are uncoupled from the train by a yard worker. The gravity of the hill provides the necessary energy to propel the car or block of cars into the classification bowl, which directs cars to tracks assigned to destinations.
Learn more about the important role BNSF's hump yards play in moving goods here.
BNSF Employee Spotlight: Nick Dryer
BNSF was the first railroad granted authority by the Federal Aviation Administration to operate unmanned aircraft systems (UAS), better known as drones. From inspecting bridges and flooded tracks to mapping projects, BNSF's UAS has grown since its initial launch in 2013 and behind the program are expert pilots like Nick Dryer.
His official title is Manager II UAS – TS for BNSF. Dryer's job includes operating drones and managing the day-to-day UAS operations, including training other employees to be pilots. From hundreds if not thousands of feet above the ground, pilots can maneuver the aircraft where it's harder—and riskier—for people to go.
Dryer holds a degree in aerospace engineering but got his start with BNSF in 2009 as an electrical technician at the Kansas City yard. In 2015, he became a roadmaster, responsible for the crews maintaining track on his territory from Portland, OR, to Pasco, WA. As BNSF's UAS program evolved, Dryer's aerospace engineering background and management experience made him a perfect fit for the program.
"I've got one of the greatest jobs on the railroad," he said of the position he's had since 2017. "Every day is different and it combines the various jobs I've held here."
Learn more about Nick Dryer's journey and BNSF's UAS program here.
Emergencies – Call 800-832-5452
To report a vehicle stalled on a crossing, suspicious circumstances, malfunctioning crossing gates and lights, or any other emergency, call 800-832-5452 immediately.
Have a Question for Us?
Do you have a question about BNSF or rail in the Pacific Northwest that you would like addressed in future issues of Inside Track? Send them to [email protected].
We welcome your feedback and ideas!
Visit bnsfnorthwest.com