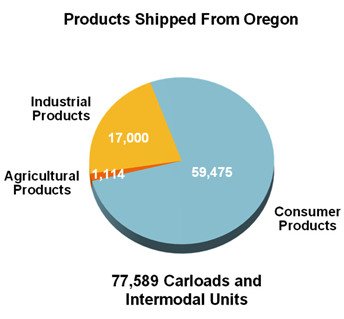 BNSF Railway plays an important role in Oregon's economy. Our 32,500-mile network helps Oregonians stay connected to the world.
We serve timber and agricultural exporters by delivering their products to domestic markets and by linking them to markets around the globe. From appliances and electronics to clothing and food, we also transport the products that consumers need. BNSF moves more than 285,000 carloads of freight in Oregon annually. BNSF rails are used to move passengers, too, including 10 Amtrak trains daily on our Portland to Seattle route.
Since 2013, BNSF has been instrumental in locating 7 new or expanded facilities in Oregon, creating jobs and more than $8 million in investments.
Supporting BNSF's rail network in Oregon are nearly 400 dedicated men and women who earn a combined payroll of more than $30 million.