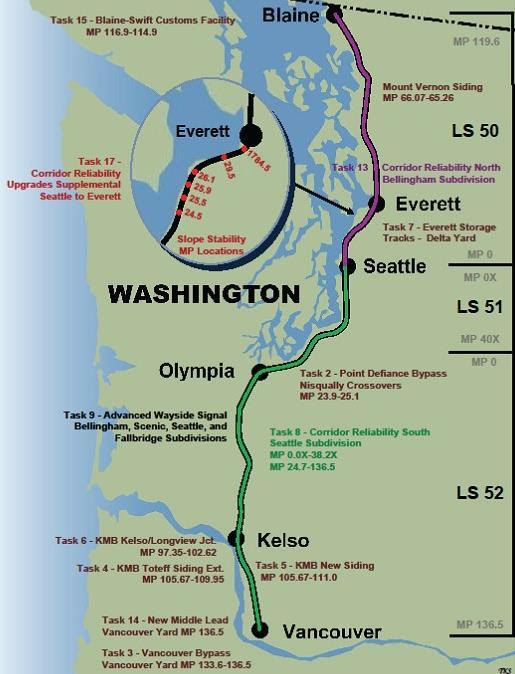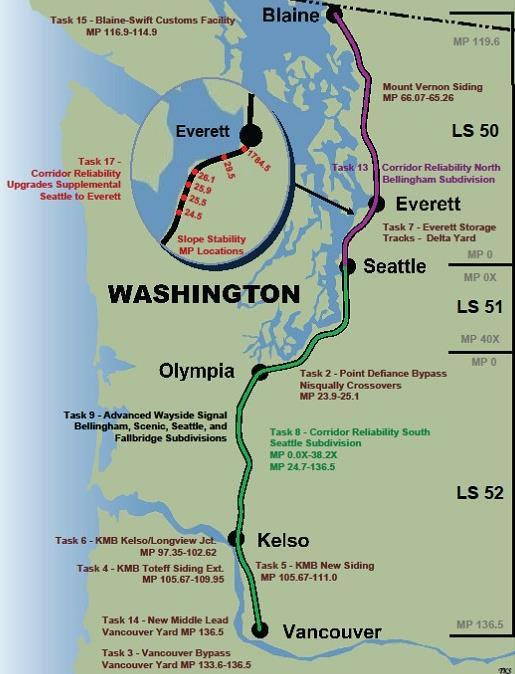 BNSF recently put the final spike in a 7-year program that included 14 complex projects in Washington. These projects, mainly funded by the American Recovery and Reinvestment Act (ARRA), focused on enhancing passenger rail service and ensuring a consistent level of freight operations through the region.
With a budget of nearly $480 million in federal funds, BNSF ensured three predefined passenger rail goals were met:
Passenger rail travel time between Seattle and Vancouver was reduced by at least 10 minutes.

Passenger trains are meeting an 88 percent or better on-time performance record based on Amtrak's timetable.

Amtrak can run two additional passenger trains per day along this route.
Projects completed during the 7-year program included:
Constructing a new track used for U.S. border and customs inspections.

Building the Vancouver Rail Yard Bypass.

Reconfiguring and upgrading all station tracks and the signal system at the King Street Station in Seattle, WA.

Constructing two new sections of third main line at Kelso Martins Bluff to bypass the Port of Kalama and Port of Longview traffic.

Building storage tracks at Delta Yard in Everett, WA.

Improving the Bellingham and Seattle subdivisions with new rail, ties, ballast and turnouts.

Upgrading signal systems and extending sidings along the entire corridor.
As the various improvement projects rolled out, BNSF's passenger and commuter on-time performance has steadily improved, particularly on the southern portion of corridor, where BNSF installed 14 miles of new third main line between Vancouver and Kelso. Additionally, the six slope stability projects that help mitigate mudslides between Seattle and Everett, WA, will significantly enhance reliability and consistency of passenger service.