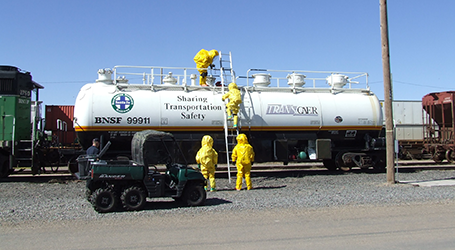 BNSF was recently honored with the 2017 Transportation Community Awareness and Emergency Response's (TRANSCAER®) National Achievement Award for the company's outreach efforts to help communities prepare for and respond to possible hazardous material incidents. This is the 18th National Achievement Award BNSF has received from TRANSCAER®.
This year's TRANSCAER® award recognized BNSF for its efforts to ensure the safe transportation of hazardous products and for the company's first-responder training program, which to-date has provided specialized training for more than 100,000 emergency responders throughout the BNSF network.
BNSF's first responder training includes classes designed to teach first responders about rail equipment and the safe transportation of chemicals by rail. It also includes emergency planning assistance, hands-on exercises and community drills to help them prepare for hazardous material incidents.
In 2017, BNSF conducted 360 hazardous material training sessions over 25 states and two Canadian provinces reaching nearly 8,200 emergency responders.