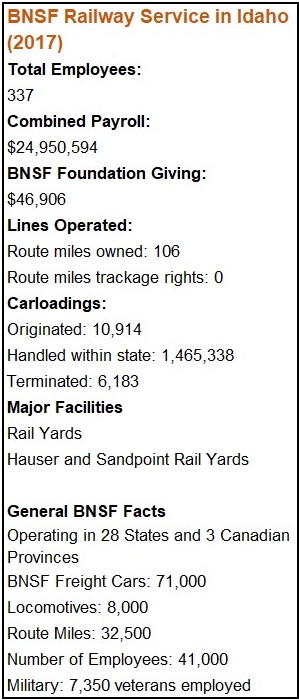 For more than a century, BNSF Railway Company has played a leading role in North Idaho's economy. The tradition remains strong today as trainloads of products are shipped in or out of the state on our 32,500-mile rail network. Idaho is part of the Great Northern Corridor which spans the northern United States between the Pacific Northwest and Chicago, as well as reaching key southern points in Canada.
We're proud of our role in helping Idaho's agriculture, timber and other industries grow in today's global economy. We link them to domestic and international markets, and we support them by delivering materials vital to their operations.
In addition, BNSF helps deliver a wide variety of consumer products to Idaho retailers and businesses, including packaged goods, clothes, appliances, electronics, and automobiles. In all, BNSF moves more than 1.4 million carloads of freight in Idaho annually.
Idaho is also home to BNSF's refueling facility at Hauser. Approximately 29 trains are serviced daily, with locomotives receiving fuel, traction sand, lube oil and water in a turn-around time of 30 to 45 minutes per train. This quick-stop process enables trains to more efficiently transport freight critical to local, national and international customers and consumers.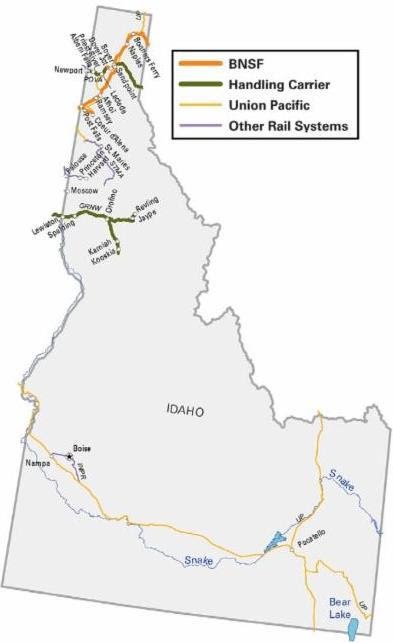 In addition to generating hundreds of jobs, from initial construction to operations, the Hauser fueling facility has raised the bar in environmental protection. No other facility throughout North Idaho or the Spokane Valley is equipped with the level of environmental monitoring and detection systems found at the Hauser depot. BNSF operates the 24-hour facility with the highest commitment to environmentally safe and efficient operations.
Supporting BNSF's rail network in Idaho are more than 330 dedicated men and women who earn a combined payroll of nearly $25 million. With more than 500 BNSF employees throughout the entire North Idaho-Spokane Valley area, our employees and their families represent a substantial segment of the regional economy.
Capital Commitments
In 2017, BNSF invested approximately $55 million in Idaho for capital projects. The largest component of the plan will be to replace and maintain BNSF's core network and related assets to ensure BNSF continues to operate a safe and reliable network. In addition, the plan includes investing in expansion and efficiency projects, continuing implementation of positive train control (PTC), and acquiring new freight cars and other equipment.