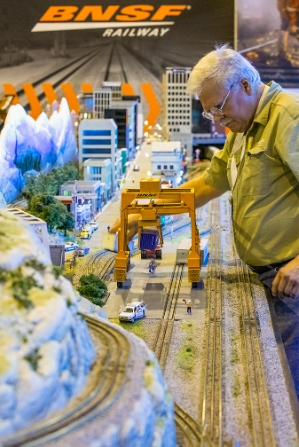 When BNSF joined the Berkshire Hathaway Inc. (BRK) team in 2010, we wanted to make a big statement at the annual BRK meeting in Omaha, Nebraska. So, we took our expertise in railroads and scaled down to create something that honored both our heritage and future: Berkyville.
Berkyville is the brainchild of Roger and Dorcie Farkash, co-owners of TW Design, which builds theatrical sets and trade show displays. It's a model train track built around a town made up of 50 BRK sister companies, complete with a jet circling above town and two iconic sections of BNSF railroad—Two Medicine Bridge in Montana's Glacier National Park and Sullivan Curve over California's Cajon Pass. In addition to a downtown, mining operations, a coal-fired power plant, grain elevators and an intermodal yard were also added to Berkyville. Three loop tracks run over mountains and through the cityscape, tunnels and rural areas, connecting the railroad to customers–just like in real life.
Building Berkyville was no small feat. The designers had to make Berkyville transportable, so they employed modular construction using eight 4-by-8-foot sections. These days, Berkyville makes appearances at the annual BRK meetings as well as annual employee events. Read more at: http://www.bnsf.com/news-media/railtalk/heritage/berkyville.html.