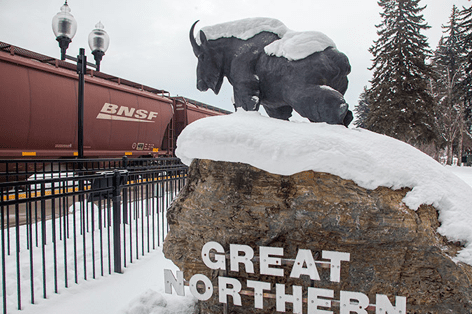 Before there was BNSF Railway's orange locomotives, one of our predecessor railroads was widely recognized by a different logo: Rocky the Goat.
Rocky the Goat was the star of the logo for the Great Northern Railway (GN). For nearly a century, Rocky was closely identified with GN, which ran through Montana's Rocky Mountain region known as Glacier National Park. Rocky symbolized the Rocky Mountain goats that passengers saw as they passed through the park.
Over the years, the Rocky logo went through many iterations—with the goat facing forward, showing his side profile, backed by a mountain range and with a plain background. No matter the version, Rocky was easily recognizable to the public, delighting children and rail passengers and fans. In 1955, his familiarity grew further when GN's Public Relations Department started advertising the railroad using an animated Rocky in TV advertising.
"Rocky was the Nike 'swoosh' of his time," said Gus Melonas, director, BNSF Public Affairs. Read more about Rocky the Goat and a unique piece of BNSF heritage here.