We don't have to wait for the history books to tell us we're living in a public health crisis like we have never seen. While the COVID-19 narrative is still being written, one important chapter is about BNSF's and the nation's freight railroads' role in keeping our country's supply chain secure.
From source to shelves, we're working to make sure you and your families get the goods you need. That includes getting raw materials to manufacturers and goods to distribution centers for delivery to retailers. That means delivering energy to utilities and supplies to farmers; because of us, one in every 12 homes in the nation has power, and 900 million people are fed by the wheat we haul in a single year.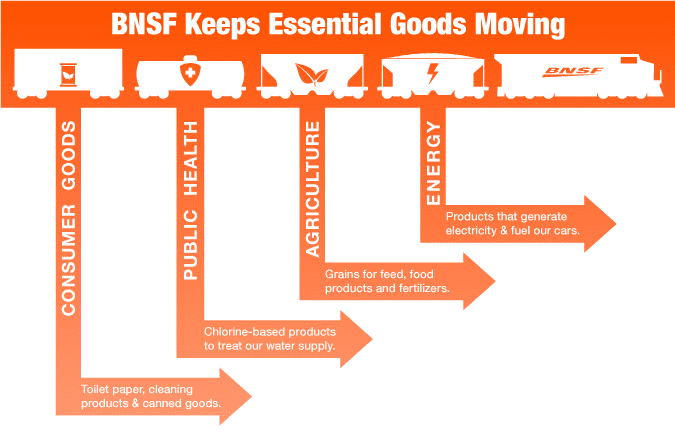 As the pandemic was announced, BNSF ensured we had the necessary resources in place and our operations teams – the ones who keep our trains running, our track maintained and our rolling stock in good condition – responded, doing what they always do: deliver.
As we go about our work, we're taking action to mitigate the spread of this virus while still fulfilling our vital role. Along with adhering to the Centers for Disease Control and Prevention guidelines and working with local public health agencies, we are sanitizing equipment and facilities and minimizing the risk of transmission to those who cannot perform their work remotely by encouraging those who can work from home to do so.
Read more about what our teams are doing to safely perform our duties here.