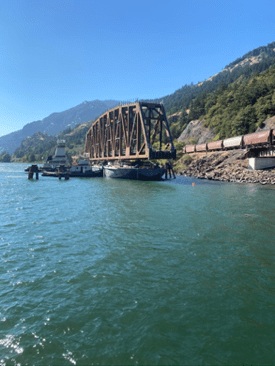 Recently, the 113-year-old Drano Bridge was replaced by a 360-foot-long, 2.7-million-pound steel structure constructed in Vancouver WA and floated down the Columbia River by barge. With careful planning and the help of about 50 construction workers, the newest bridge on BNSF Railway's Columbia River Gorge line was installed within 36 hours and is now carrying trains across the entrance channel where Drano Lake connects to the river.
The $15 million project is the latest in a series of bridge replacement projects that BNSF has undertaken for the Gorge line in recent years, including a new bridge last year in Home Valley, about seven miles west of Drano Lake, and another in 2017 at the Washougal River in Camas.
Learn more about the Drano Bridge installation here.