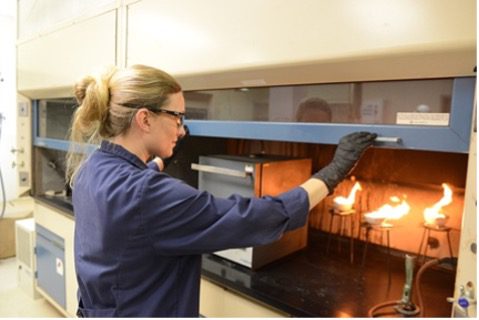 We all remember the beginning of COVID shutdowns and empty store shelves last year. Cleaning and disinfecting products were some of the hardest to find. Like most Americans, team BNSF had to change course quickly to secure an adequate supply of those elusive items.
Central to BNSF's pivot was the Technical Research & Development (TR&D) group based in Topeka, KS, which went from reviewing the safety and effectiveness of a few cleaning and disinfecting products each month to reviewing more than 500 in the span of three months.
Testing the safety and efficacy of products is just one part of this team's responsibilities. The team's main areas of focus include analysis and investigation of derailments and operational practices, new product approvals, quality control as well as testing of materials, fuels and chemicals. The TR&D team's work touches nearly every aspect of the railroad.
Learn more about how the testing lab improves safety throughout BNSF operations here.