Part of BNSF's commitment to transporting freight safely involves training employees, first responders, and contractors for unlikely events that involve hazardous materials. During a recent training in Bonner County, Idaho, BNSF provided a group of 42 local first responders, and contractors with practical experience and techniques to safely respond to an incident involving oil trapped on or under ice during adverse weather conditions.
On February 16 and 17, 2022, BNSF hazmat employees conducted hands-on training at Cocolalla Lake with community first responders, local fire departments, Search and Rescue personnel, and BNSF's oil spill response contractors to provide on-water and on-ice safety training as well practicing oil under ice containment/recovery equipment installation. The training specifically emphasized hazard identification and worker protection techniques while working on ice. The responders used BNSF resources, which included two trailers full of protective clothing, assorted winter equipment, and an airboat during the training.
When safe and practical, BNSF uses its hazmat-training equipment to deliver free, practical, hands-on training to first responders that prepares them to respond safely and effectively to railroad hazmat incidents. BNSF also provides free online railroad hazardous materials familiarization courses for community emergency responders. More than 160 trained hazmat responders and hazmat advisors are pre-positioned and supported by specialized response equipment in over 60 locations across the BNSF rail network.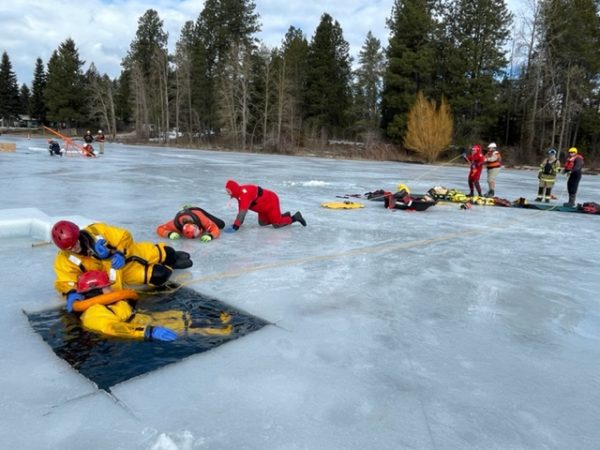 Training First Responders by the Numbers:
8,000+ responders trained on average per year
125,000+ responders trained since 1996
Learn more about BNSF's approach to safety here.