February 2020 • The latest from the Pacific Northwest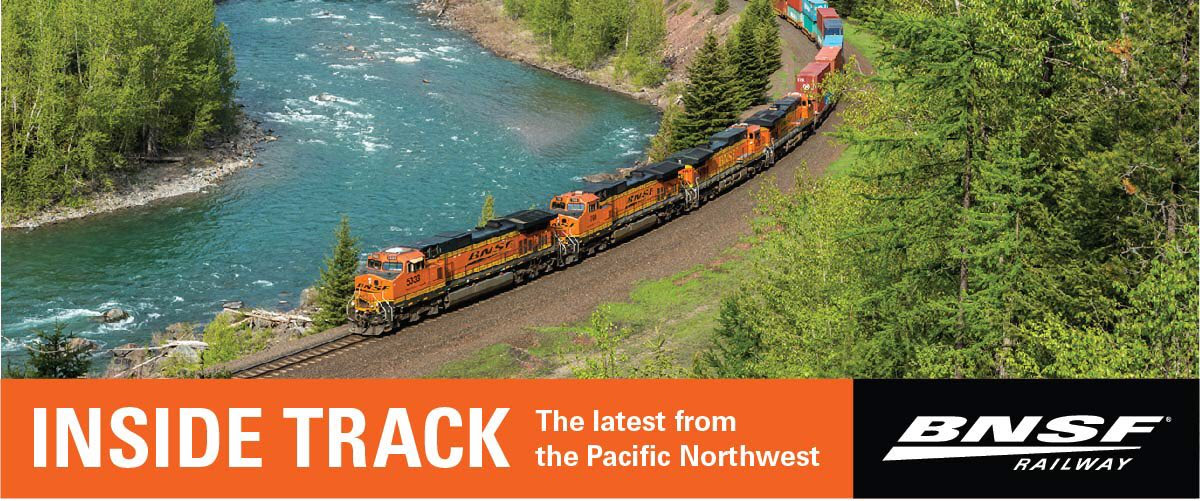 Increasing Safety, Capacity and Efficiency on Our Tracks
BNSF Railway is always looking for ways to increase safety and capacity on our system. One way the railroad gets more capacity is through Centralized Traffic Control, or CTC. CTC consolidates train routing decisions that were previously carried out by local signal operators or the train crews themselves.
CTC utilizes automation allowing dispatchers to remotely control the signals and switches for crossovers and sidings. CTC comes into play in areas where trains can only move when the dispatcher has given permission to proceed, usually as two locomotives approach each other as they head in opposite directions.
Before CTC, one train crew had to stop, exit the train and manually align the switch to pull into the siding. The other locomotive crew then called the dispatcher to request permission to proceed. The lengthy process required a lot of communication and coordination, and train speeds were lowered to ensure safety on our tracks.
With CTC, the process moves much faster and more safely. The dispatcher uses their view of their entire territory to remotely set up switches and signals automatically, streamlining the process and allowing for higher train speeds.
To see CTC in action, watch here.
Rocky the Goat, Star of the Great Northern Railway
Before there was BNSF Railway's orange locomotives, one of our predecessor railroads was widely recognized by a different logo: Rocky the Goat.
Rocky the Goat was the star of the logo for the Great Northern Railway (GN). For nearly a century, Rocky was closely identified with GN, which ran through Montana's Rocky Mountain region known as Glacier National Park. Rocky symbolized the Rocky Mountain goats that passengers saw as they passed through the park.
Over the years, the Rocky logo went through many iterations—with the goat facing forward, showing his side profile, backed by a mountain range and with a plain background. No matter the version, Rocky was easily recognizable to the public, delighting children and rail passengers and fans. In 1955, his familiarity grew further when GN's Public Relations Department started advertising the railroad using an animated Rocky in TV advertising.
"Rocky was the Nike 'swoosh' of his time," said Gus Melonas, director, BNSF Public Affairs. Read more about Rocky the Goat and a unique piece of BNSF heritage here.
Sniffing Out Crime on BNSF Tracks
Since BNSF's railroad system spans the country, there is a lot of property to oversee and patrol. That's where our very own police department and K-9 program come into play.
There are three BNSF K-9s located throughout the northwest, including 7-year veteran of the force Quinn and his partner, Officer Ian Ashley. The two handle crimes along the tracks throughout Washington and Northern Idaho.
The K-9 program was established to find things officers may miss like drugs or explosives. Their heightened senses offer abilities that humans simply don't have. In the K-9 program, officers and their trusty dogs become more than partners. They become family.
Track Safety Basics
Staying safe around train tracks is paramount to BNSF. Below are important rail safety tips that can save lives:
1. Freight trains don't travel at fixed times, and schedules for passenger trains often change. Always expect a train at each highway-rail intersection at any time.
2. All train tracks are private property. Never walk on tracks; it's illegal trespass and highly dangerous. It takes the average freight train traveling at 55 mph more than a mile—the length of 18 football fields—to stop. Trains cannot stop quickly enough to avoid a collision.
3. The average locomotive weighs about 400,000 pounds or 200 tons; it can weigh up to 6,000 tons. This makes the weight ratio of a car to a train proportional to that of a soda can to a car. We all know what happens to a soda can hit by a car.
4. A train can extend three feet or more beyond the steel rail, putting the safety zone for pedestrians well beyond the three foot mark. If there are rails on the railroad ties, always assume the track is in use, even if there are weeds or the track looks unused.
5. Trains can move in either direction at any time. Sometimes its cars are pushed by locomotives instead of being pulled, which is especially true in commuter and light rail passenger service.
6. Today's trains are quieter than ever, producing no telltale "clackety-clack." Any approaching train is always closer, moving faster, than you think.
7. Remember to cross train tracks ONLY at designated pedestrian or roadway crossings, and obey all warning signs and signals posted there.
8. Stay alert around railroad tracks. Refrain from texting, headphones or other distractions that would prevent you from hearing an approaching train; never mix rails and recreation.
Supporting our Communities
The BNSF Railway Foundation invests in the communities across the 28 states through which BNSF operates, and where BNSF employees live, work and volunteer. Recent donations include:
Supporting Mental Health Services for Military Members and Families
Invictus Foundation is a national nonprofit organization that offers individual and family behavioral health counseling services to military members, veterans and their families. The BNSF Railway Foundation proudly provided a grant to support Invictus Foundation's Welcome Home Network, a program that addresses the lack of mental health services for returning members of the U.S. Armed Forces.
Enhancing Veteran Therapy Programs
The BNSF Railway Foundation recently donated to Central Oregon Veterans Ranch (COVR) to support the organization's mission of helping veterans heal. The organization offers therapeutic programs and activities such as agricultural participation, peer support and other trauma-informed education activities.
Providing Beds for Children in Need
The Society of St. Vincent de Paul of Snohomish County's Beds for Children program offers beds to kids who are sleeping on floors, many using newspaper or cardboard to warm themselves. A $3,000 donation from the BNSF Railway Foundation will fund 18 beds for vulnerable children in the county.
Fostering Inclusion, Community and Fun
The BNSF Railway Foundation is a proud supporter of Special Olympics Washington and its goal of driving positive change in the understanding of people with intellectual disabilities. The foundation donated $5,000 to the Summer State Games in 2019, which saw 840 athletes compete in a weekend of athletic competition, health screenings, education and fun.
Emergencies – Call 800-832-5452
To report a vehicle stalled on a crossing, suspicious circumstances, malfunctioning crossing gates and lights, or any other emergency, call 800-832-5452 immediately.
Have a Question for Us?
Do you have a question about BNSF or rail in the Pacific Northwest that you would like addressed in future issues of Inside Track? Send them to [email protected].
We welcome your feedback and ideas!
Visit bnsfnorthwest.com