March 2020 • The latest from the Pacific Northwest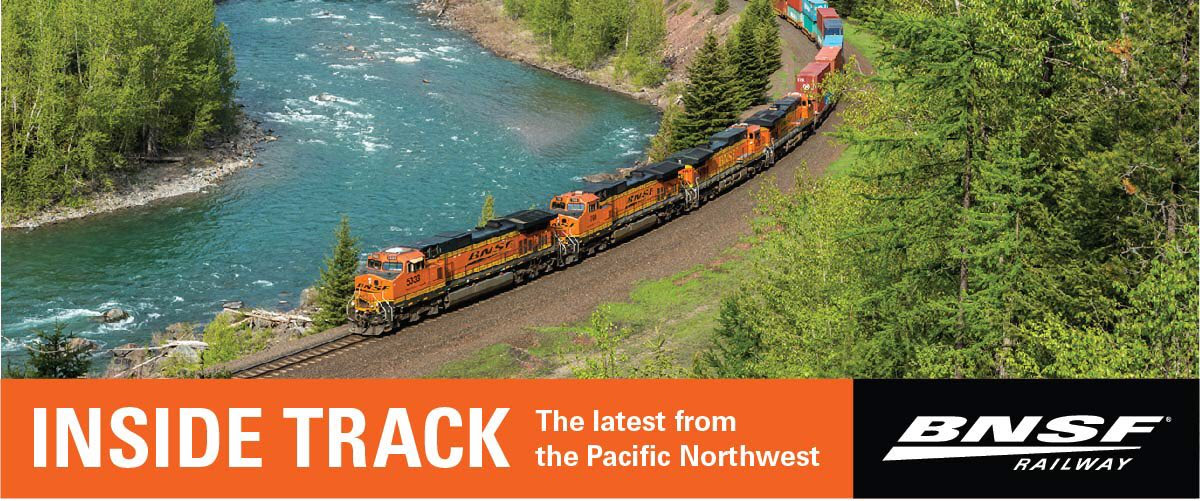 Responding to COVID-19
BNSF continues to closely monitor the coronavirus and its impacts to our employees and customers. For any BNSF employee who may have been exposed to COVID-19, we are working with them on appropriate next steps that are consistent with guidance from the CDC and local public health agencies. We stand ready to handle any increases in volume in the North American supply chains once conditions have improved and will provide updates as necessary to our employees and customers.
Please visit the CDC website for the most current information on the coronavirus.
Women Artists Left Their Mark on BNSF and the American West
Since the United States' earliest days, the American West has lured artists eager to capture its beauty and vast uncharted terrain. Many of those pioneering artists were women.
"As men traveled west to search for gold, their wives followed. Many recorded the journey through painting or the written word," said Linda Osmundson, author of How the West Was Drawn: Women's Art.
BNSF's corporate art collection, the oldest in the country, showcases some of these women artists' work. Executives from our predecessor railroads commissioned artists—both men and women—to capture the spectacular scenery as a way to promote rail travel through the American West. Stunning locations like the Grand Canyon and Yosemite National Park provided artists with endless subject matter.
To celebrate Women's History Month, BNSF is proud to highlight women artists who had a crucial hand in our railroad's history and immeasurable contribution to American art. Learn more about Grace Betts, Jessie Benton Evans, Lydia Dunham Fabian and others here.
BNSF and Hollywood's Intersecting History
Before commercial flights became common in the 1950s, BNSF predecessor Santa Fe Railway's "Super Chief" was the main transportation for Hollywood's stars. The Super Chief was the railroad's premiere Pullman sleeping car train that ran daily from Chicago to Los Angeles.
With West Coast terminals in California, top-notch service and train cars completed with air conditioning, gourmet meals and private bedrooms, the luxury train became a hit with celebrities. Guests like Charlie Chaplin, Elizabeth Taylor, Frank Sinatra and Bette Davis helped the Super Chief become known as the "Train of the Stars."
In addition to celebrity passengers, movies, television shows and commercials have been made about the railroad or were filmed on railroad property. In 1939, the western film "Dodge City" debuted in Dodge City, Kansas, along the original Santa Fe Transcon mainline. A few years later, Judy Garland starred in the MGM film "The Harvey Girls," an adaptation of a Harvey hotel/restaurant operation set in the Southwest.
Read more about how BNSF and Hollywood's histories intersect here.
BNSF Customers Report Robust Investments in 2019
Investments from BNSF customers utilizing our rail network totaled approximately $1.2 billion in 2019. BNSF projects 2,000 jobs were added to local economies as a result of these investments that supported a range of commodities including consumer, agricultural and industrial products in over 100 communities on our network.
It's the ninth consecutive year BNSF customers and local economic development organizations have invested over $1 billion in a year.
Reducing our Customers' Carbon Footprint
Rail is the most environmentally-friendly mode of land transportation. Shipping by rail can help our customers reduce their carbon footprint by up to 82%. Removing long-haul trucks from our highways has a significant net positive impact on the environment.
To improve awareness of how shipping by rail can reduce carbon emissions, BNSF created the Carbon Estimator tool. The Carbon Estimator allows customers to compare their carbon footprint size by rail shipment to what it would have been if they shipped by long-haul truck.
Supporting our Communities
The BNSF Railway Foundation invests in the communities across the 28 states through which BNSF operates, and where BNSF employees live, work and volunteer. Recent donations include:
Funding Educational Activities for Underserved Youth
The Passport to Opportunity Program, operated by Spokane nonprofit Spark Central, breaks barriers underserved youth might have to creative and innovative educational activities. The BNSF Railway Foundation donated $1,500 to fund tools like screen-printing supplies and science kits. The financial support assists West Central Spokane youth, many of which live below the poverty line.
Inspiring Children to Succeed
The BNSF Railway Foundation recently donated $5,000 to Camp Fire Central Puget Sound. The youth development organization aims to inspire and enable children from all backgrounds and abilities to discover their passion, ignite a commitment to service and drive our future generations to succeed. Camp Fire programs include summer camps, mentorship programs and outdoor education programs.
Encouraging Learning When School's Out
School's Out Washington is an organization that serves Washington's youth outside the traditional school day. The BNSF Railway Foundation donated $3,000 to the nonprofit's Feed Your Brain project which provides funding and training for schools, organizations and tribes operating summer learning programs and experiences in rural communities in Central and Eastern Washington.
Sheltering Families with Children
The BNSF Railway Foundation recently donated $5,000 to Renton-based social service organization Vision House. The nonprofit aims to break the cycle of homelessness for families with children living in Renton and Shoreline regardless of race, religion or nationality. The organization believes a healthy home is a basic human right, providing roofs for families who need them the most.
Emergencies – Call 800-832-5452
To report a vehicle stalled on a crossing, suspicious circumstances, malfunctioning crossing gates and lights, or any other emergency, call 800-832-5452 immediately.
Have a Question for Us?
Do you have a question about BNSF or rail in the Pacific Northwest that you would like addressed in future issues of Inside Track? Send them to [email protected].
We welcome your feedback and ideas!
Visit bnsfnorthwest.com