March 2020 Special Edition
March 2020 Special Edition • The latest from the Pacific Northwest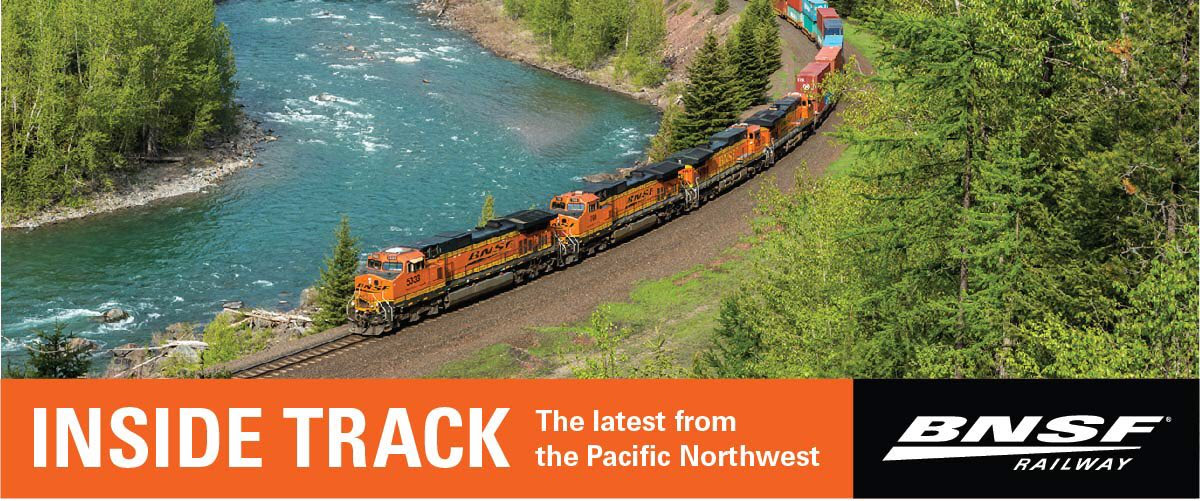 Taking Measures to Confront COVID-19
At BNSF Railway, protecting the safety and health of our customers, employees and communities where we operate is the most important thing we do. We are taking precautionary measures in response to the coronavirus pandemic and carefully monitoring the quickly evolving situation as we continue to deliver essential goods to communities across our network.
Answering the Call: BNSF Keeps Supplies Moving in Times of Crisis
We don't have to wait for the history books to tell us we're living in a public health crisis like we have never seen. While the COVID-19 narrative is still being written, one important chapter is about BNSF's and the nation's freight railroads' role in keeping our country's supply chain secure.
From source to shelves, we're working to make sure you and your families get the goods you need. That includes getting raw materials to manufacturers and goods to distribution centers for delivery to retailers. That means delivering energy to utilities and supplies to farmers; because of us, one in every 12 homes in the nation has power, and 900 million people are fed by the wheat we haul in a single year.
As the pandemic was announced, BNSF ensured we had the necessary resources in place and our operations teams – the ones who keep our trains running, our track maintained and our rolling stock in good condition – responded, doing what they always do: deliver.
As we go about our work, we're taking action to mitigate the spread of this virus while still fulfilling our vital role. Along with adhering to the Centers for Disease Control and Prevention guidelines and working with local public health agencies, we are sanitizing equipment and facilities and minimizing the risk of transmission to those who cannot perform their work remotely by encouraging those who can work from home to do so.
Read more about what our teams are doing to safely perform our duties here.
Supporting our Communities
The BNSF Railway Foundation invests in the communities across the 28 states through which BNSF operates, and where BNSF employees live, work and volunteer. Recent Foundation donations target coronavirus response and support, including:
Supporting Puget Sound Neighbors in Need
Seattle Foundation's COVID-19 Response Fund makes grants for rapid deployment to community organizations supporting local families and workers most impacted by the coronavirus crisis. The BNSF Railway Foundation is proud to support the Fund in helping the Seattle region's most vulnerable with emergency assistance, such as financial support, healthcare and childcare.
Donating Funds to combat COVID-19 in Northern Idaho and Eastern Washington
A coalition of government, philanthropic and business partners have teamed up to create two COVID-19 Response and Recovery Funds that will directly supply resources to organizations at the forefront of the battle against the coronavirus pandemic in Northern Idaho and Eastern Washington. A BNSF Railway Foundation donation will support the work medical providers, emergency workers and businesses are doing to address the crisis. BNSF joins Innovia Foundation, Spokane County United Way, Bill and Melinda Gates Foundation and others in the coalition.
Emergencies – Call 800-832-5452
To report a vehicle stalled on a crossing, suspicious circumstances, malfunctioning crossing gates and lights, or any other emergency, call 800-832-5452 immediately.
Have a Question for Us?
Do you have a question about BNSF or rail in the Pacific Northwest that you would like addressed in future issues of Inside Track? Send them to [email protected].
We welcome your feedback and ideas!
Visit bnsfnorthwest.com