April 2020 • The latest from the Pacific Northwest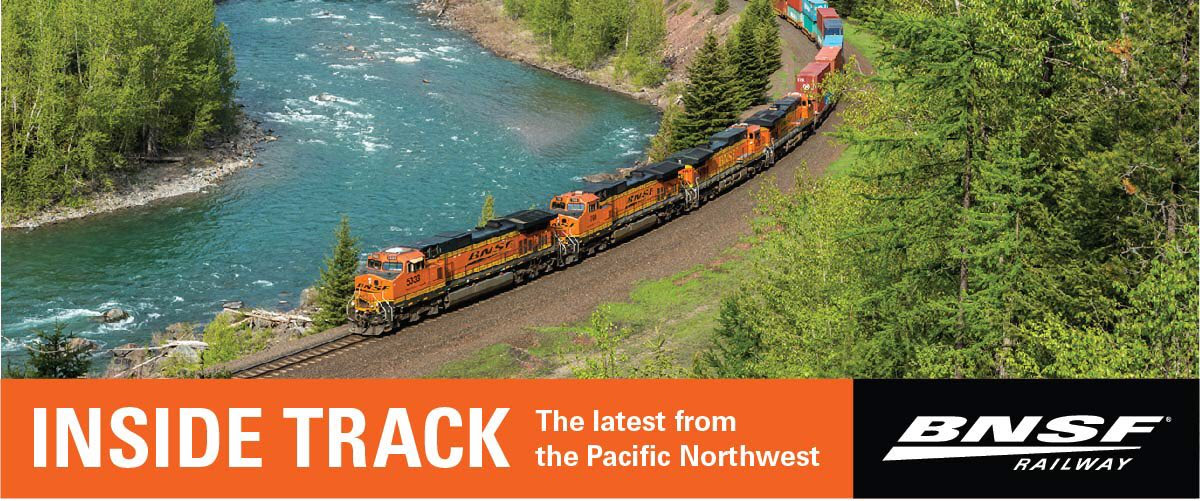 Delivering What Matters in the COVID Era
Most Americans have seen first-hand the empty store shelves that have resulted from COVID-19 as shoppers scramble for non-perishable goods and paper products. The shortages have caused the supply chain to become top of mind for many, when it's typically not something people think about.
BNSF is doing our part to deliver necessary products. We're working tirelessly with the nation's largest consumer brands and store chains to transport essential goods where they are needed most. To bring those items to families across the country, partnerships between ocean carriers, trucking companies and railroads are required.
Once a shipping container arrives at a port of entry, a journey begins that crosses many state borders via rail and highway before arriving at your local store. Shipments typically travel inland by rail in the container they arrived in, or are taken to a transload facility by truck. If taken to a transload facility, the shipment is transferred to a larger container before beginning its journey by rail. Once the container is on our rail network, the goods will then travel to one of our 25 intermodal facilities and finally onto local store shelves.
Learn more about ways we are working with customers and service partners to keep the supply chain moving here.
Prioritizing Safety and Security No Matter What
BNSF understands that a safe and resilient rail network is crucial to our customers and our nation's future, especially during times of crisis. As communities continue to need essential goods, we must keep shipments moving in a safe and secure manner.
As a leader in railroad safety, BNSF's vision is to operate free of accidents and injuries. Every day we work to make that vision a reality through safety programs, training and the latest technology. The current accident rate for railroads is significantly lower than the trucking industry, and we continue to push for an even safer rail network through regular bridge inspections, hazardous material training, railroad grade crossing improvements and more.
Learn more about what BNSF is doing to improve the safety and security of our rail network here.
Learn more facts about BNSF and our history here.
New Bridge Keeps North Dakota Products Flowing to Market
The BNSF bridge over the Missouri River at Bismarck and Mandan, North Dakota is more than 100 years old and needs to be replaced so we can continue to move goods safely.
The timely replacement of the bridge will ensure continued efficient railroad shipments of agricultural and industrial products, which are economically vital to the North Dakota region.
Want to follow and support this important project and other North Dakota rail issues? Text "Railbridge" to 52886 from your mobile device for the latest news about the project and how you can help. You can also sign up for updates here.
To learn more about the bridge and its importance to the North Dakota economy, watch here.
Supporting our Communities

The BNSF Railway Foundation invests in the communities across the 28 states through which BNSF operates, and where BNSF employees live, work and volunteer. Recent donations include:
Contributing to the Fight Against COVID-19
The BNSF Railway Foundation is proud to contribute to the Southwest Washington COVID Response Fund, operated by the Community Foundation of Southwest Washington. The fund provides flexible financial support to trusted nonprofit partners who are working collaboratively to address the increasing needs resulting from COVID-19.
Assisting our Healthcare Workers
Providence Regional Medical Center's Helping Hands Fund provides assistance to the Everett facility's caregivers who are experiencing particular hardship from COVID-19. The BNSF Railway Foundation donated funds for emergency support for caregivers including transportation, child care, food and rent assistance during this time of crisis.

Supporting Full-Day Childcare
The BNSF Railway Foundation supports the Boys & Girls Clubs of King County, including a donation to extend full-day child care hours at 19 sites during this unprecedented time. To ensure accessibility for those who need childcare the most, the clubs are waiving daily fees for families of first-responders, healthcare workers, and people working in essential occupations and fast-tracking scholarships for low-income families.
Funding Families Without Shelter
Mary's Place houses King County families who are experiencing homelessness. To support the organization's mission of ensuring no child sleeps outside, the BNSF Railway Foundation donated $25,000. The funds helped Mary's Place staff serve 2,476 individuals in 2019—1,403 kids and 1,073 adults—and provide 171,909 bed nights for those seeking help.
Emergencies – Call 800-832-5452
To report a vehicle stalled on a crossing, suspicious circumstances, malfunctioning crossing gates and lights, or any other emergency, call 800-832-5452 immediately.
Have a Question for Us?
Do you have a question about BNSF or rail in the Pacific Northwest that you would like addressed in future issues of Inside Track? Send them to [email protected].
We welcome your feedback and ideas!
Visit bnsfnorthwest.com