BNSF, Food Producers Keep Grocery Stores Stocked
Since the outbreak of COVID-19, the food supply chain has been stretched working to meet extraordinary demand. Fewer people dining at restaurants or ordering takeout means more home cooking, more grocery shopping and more food flying off store shelves.

Food producers and common carriers like BNSF Railway are working together to meet the need for more food at our stores. According to the U.S. Department of Agriculture, the main obstacle to putting products on grocery shelves is elevated demand on the supply chain, making BNSF's role critical.

An example of BNSF and our customers adapting to this increased need is the logistical adjustment made with customer Ardent Mills, the largest American flour miller. As soon as COVID-19 emerged, BNSF and Ardent Mills immediately coordinated to adapt to the additional service required for the miller.

BNSF has also made operational adjustments in regions known for meat production, including Kansas, West Texas and Colorado. More home cooking initially increased production for meat packers as demand spiked. BNSF adjusted resources accordingly to get larger numbers of packaged meat to store shelves faster.

Learn more about supply chain adjustments being made here.
BNSF Implements Virtual First Responder Training
Every year, BNSF trains 6,000 to 10,000 first responders in Railroad Emergency Response and Hazardous Material Awareness. This year is no different even with COVID-19. Thanks to virtual training initiated by BNSF, first responders are able to learn from the comfort of their homes and stations.
During 90-minute webinar sessions, full-time and volunteer emergency workers learn how to safely and efficiently respond to railroad hazardous material (hazmat) incidents. Training sessions have been free and so are the webinars. Although spills and hazardous material incidents are extremely rare, BNSF recognizes that first responders need to be prepared if they occur. Since 1996, we've trained more than 120,000 responders, both online and in person. The live webinars are a first.
BNSF officials initially expected approximately 30 people to register, but about 1,000 have signed up since the webinars were initiated in March. There are currently four webinars scheduled with about 250 attendees per session. The online platform allows firefighters, police officers and other emergency responders to continue education, which is often required to maintain certification in their fields.
Learn more about first responder training here.
New Rail Bridge Under Construction in Vancouver, WA
Folks who have ventured down to the Vancouver Marine Park boat launch have likely seen a new bridge taking shape. It's hard to miss—the steel truss structure is much taller than its surroundings. The new structure is a railroad bridge that will replace a century-old BNSF bridge over Drano Lake in Skamania County. The bridge serves a BNSF route that runs east from Vancouver along the northern side of the Columbia River.
The new infrastructure—which will span approximately 440 feet and will include a 360-foot central steel through-truss span—is part of a larger push by BNSF to upgrade its statewide rail network.
Construction crews are already driving pilings for the two main piers that will support the Drano Lake bridge. Once the piers are completed, the finished truss will be loaded onto a barge and floated up the Columbia River to its final location.
Learn more about the new bridge here.
Sandpoint Junction Connector: Temporary Span Underway
BNSF is continuing work on a second rail bridge over Lake Pend Oreille, near Sandpoint, ID. Construction crews are currently working on a temporary span. The temporary span is taller than the eventual permanent bridge, which will be the same height as the existing bridge. The first stage of construction involves two temporary work trestles at the north shore and south shore.
The project will also include a new pedestrian tunnel connecting to the existing hike-bike trail and consistent in style as the tunnel underneath Bottle Bay Road.
Did You Know? Train Horns Save Lives
Too many Americans die every year while trespassing on railroad tracks and ignoring signals at grade crossings.
Locomotive engineers have the discretion to sound the horn at specific times or when a potential threat looms. Train crews are required by federal law to sound the horn—at a level of at least 96 decibels—when approaching a road crossing for the safety of pedestrians and motorists, with the only exception being crossings that have met "Quiet Zone" criteria. Fines for not sounding the horn enough are one of many measures in place to facilitate safety at grade crossings across our network.
Learn more about train horns here.
Supporting Our Communities

The BNSF Railway Foundation invests in the communities across the 28 states through which BNSF operates, and where BNSF employees live, work and volunteer. Recent donations include:
Funding Water Rescue Training in Boundary County
The BNSF Railway Foundation recently contributed $19,300 to the Water Rescue and Dive program at the Boundary County Sheriff's Office, located in Bonners Ferry, ID. On behalf of BNSF Railway, we'd like to thank our law enforcement officers and emergency responders!
Equipping Roslyn Fire Department as Fire Season Nears
The Roslyn Volunteer Fire Department provides fire and emergency services to the Central Cascades mountain town, located near Cle Elum, WA. Over a yearlong fundraising effort, the fire department raised money to purchase a new aid car. The BNSF Railway Foundation donated $10,000 to help the department reach their goal.
Supporting Food Security Across our Network
The BNSF Railway Foundation supports the critical efforts of food banks that serve the communities where BNSF employees live, work and volunteer. During the pandemic, food security is a priority. Recent donations include:
Funding Supplemental Food Needs in Bonner County
The BNSF Railway Foundation recently awarded a $5,000 grant to the Bonner Community Food Bank, which serves Sandpoint, ID and the wider Bonner County community. The Food Bank has come up with creative ways to serve their community, including volunteers creating and handing out supplemental food boxes, during this time of exceptional need.
Feeding People in Eastern Washington, Northern Idaho
Second Harvest is a food bank that serves 26 counties in Eastern Washington and Northern Idaho and partners with 250 neighborhood food banks throughout the region to feed 55,000 people per week. To support the organization's effort, the BNSF Railway Foundation recently donated $5,000 as part of the foundation's push to aid food bank efforts across our rail network.
Helping Feed Clark County During COVID-19
The Clark County Food Bank is a regional food bank that distributes approximately 8 million pounds of food every year to people living in the Southwest WA county. Throughout the COVID-19 crisis, the food bank has accelerated additional services to meet the need of their neighbors. The BNSF Railway Foundation recently donated $5,000 to support the food bank's important work.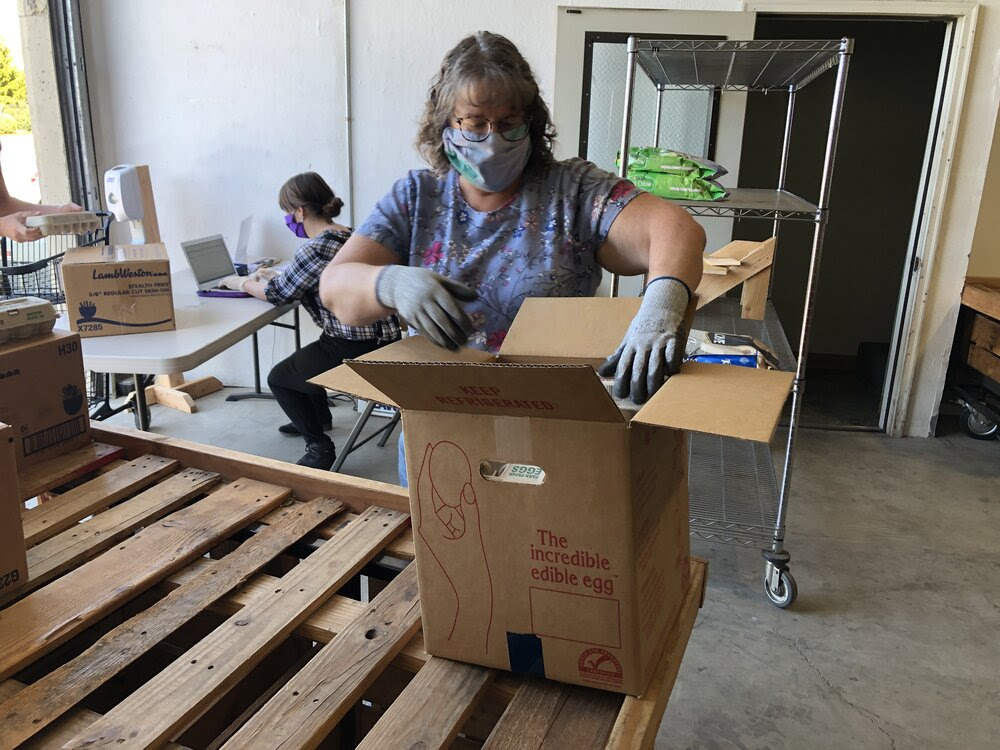 Emergencies – Call 800-832-5452
To report a vehicle stalled on a crossing, suspicious circumstances, malfunctioning crossing gates and lights, or any other emergency, call 800-832-5452 immediately.
Have a Question for Us?
Do you have a question about BNSF or rail in the Pacific Northwest that you would like addressed in future issues of Inside Track? Send them to [email protected].
We welcome your feedback and ideas!
Visit bnsfnorthwest.com