Streamlining Truck Entrance into Intermodal Facilities
BNSF has a long-standing history of utilizing technology to keep the global economy moving. As a technology leader, we're constantly exploring and adopting new tools to enhance the safety and efficiency of our operations. Our South Seattle Intermodal Facility's touchless automated in-gate system pilot program is a perfect example.

The in-gate system admits trucks more quickly and removes the driver's need to touch equipment to gain access, protecting drivers' safety, especially during the COVID-19 pandemic. Once the truck enters the facility, information is exchanged between BNSF, the trucking company and the driver. Then, the driver is given directions about unloading the freight.

This process was streamlined when BNSF introduced RailPASS—a mobile app that allows truck drivers to input required information upon arrival by scanning a QR code, and then receive instructions for navigating the intermodal facility. On average, the app cuts gate times from three minutes to 30 seconds, and currently has over 65,000 users. BNSF is evolving this technology even further, using RailPASS as a foundation, to coordinate security clearances, shipment information and directions before the truck arrives as the facility.
Stay Safe Near Railroad Tracks This Summer
BNSF urges the public to be safe near railroad tracks as summer's longer days and warmer temperatures near. Crossing railroad tracks away from a designated crossing is both illegal and dangerous. Please heed these easy steps to ensure your safety near the railroad:
Always expect a train at any time. Trains don't travel on fixed times, and schedules for passenger trains often change.
Never walk on tracks. It's illegal trespass and highly dangerous. It takes the average freight train travelling at 55 mph more than a mile to stop.
Trains have the right of way 100 percent of the time over cars, police, pedestrians and emergency vehicles.
Trains can extend three feet or more beyond the steel rail. This makes the danger zone larger than the tracks themselves. If there are rails on the railroad ties, always assume the track is in use.
Cross train tracks only at designated pedestrian or roadway crossings. Obey all warnings signs and signals for your own safety.
About BNSF Railway
BNSF's rail network spans 32,500 route miles and covers 28 states and three Canadian provinces. You might know BNSF is one of the country's largest railroad companies, but did you know these 2019 facts about our railroad?
Supporting Our Communities

The BNSF Railway Foundation invests in the communities across the 28 states through which BNSF operates, and where BNSF employees live, work and volunteer. Recent donations include:
Connecting Families with Sanitized Furnishings
Community Warehouse connects Portland-area families in need with essential furnishings. In response to the COVID-19 crisis, the organization, with BNSF Railway Foundation funding, quickly offered a new solution to safely support families with sanitized HOME 2 GO kits. Each kit includes brand new furnishings such as cookware, an air mattress, dishes and linens.
Sheltering Our Homeless Veterans
The BNSF Railway Foundation provided a $10,000 grant to the Bend Heroes Foundation's Central Oregon Veterans Village. The community—currently in the works—aims to offer transitional shelters and services to homeless veterans. The village plans to provide 15 shelters and a central community building.
Funding Virtual Summer Camp for Youth Living with Diabetes
Each summer, the American Diabetes Association hosts ADA Imagine Camp, connecting youth living with diabetes to new friends, diabetes management practices and a supportive environment. Children aged five to 17 who live with type 1 diabetes have access to fun activities, interactive group sessions and counseling opportunities. Support from BNSF Railway Foundation will allow ADA in Seattle to transition to a free in-home camp experience.
Bringing Art to Underrepresented Communities
The Seattle Art Museum's Highline Public Schools program is committed to providing arts-learning resources and quality learning experiences for students from traditionally underrepresented backgrounds. Through Museum programs, Highline students gain exposure to art, complex ideas and critical thinking skills. The BNSF Railway Foundation provided a $10,000 grant to support the program.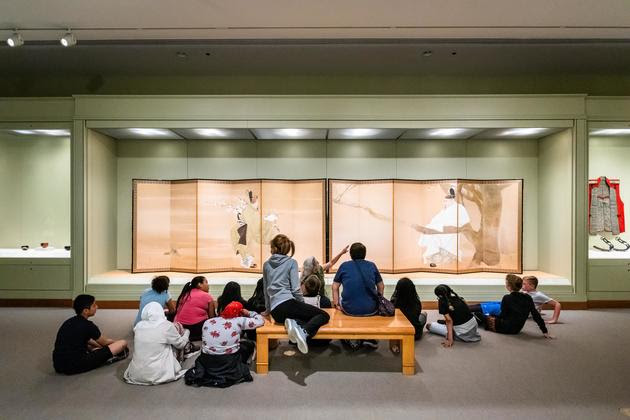 Providing PPE for Washington Employers
Support from BNSF Railway, and other companies, has helped the Seattle Metropolitan Chamber of Commerce and Business Health Trust launch an option for small employers in Washington State to receive free face coverings and affordable KN95 and AspenAir masks. More than 20,000 face coverings and masks have been procured.
Emergencies – Call 800-832-5452
To report a vehicle stalled on a crossing, suspicious circumstances, malfunctioning crossing gates and lights, or any other emergency, call 800-832-5452 immediately.
Have a Question for Us?
Do you have a question about BNSF or rail in the Pacific Northwest that you would like addressed in future issues of Inside Track? Send them to [email protected].
We welcome your feedback and ideas!
Visit bnsfnorthwest.com