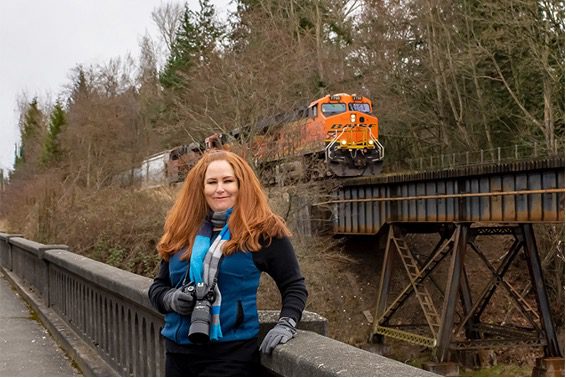 Andrea Capiola, an archaeologist in Coupeville, WA, credits her passion for trains with getting her through a very difficult period in her life. She has loved trains since she was a child watching her brother build his model railroad. As an adult, Capiola started photographing trains during a trip through western Washington.
Then a year later, she suffered a severe back injury. Recovery would take three surgeries. Suffering from debilitating pain that took a tremendous mental and physical toll, railroad photography became her only outlet, and then it became her passion.
She started posting her photos to social media. "The response was overwhelming! I would get really great comments. As an artist, it's immensely gratifying when someone views one of my photographs and sees the same beauty, wonder and awe I see. I feel empowered that I'm able to convey my passion and my love through art."
Read more about Andrea Capiola and other women rail photographers here.