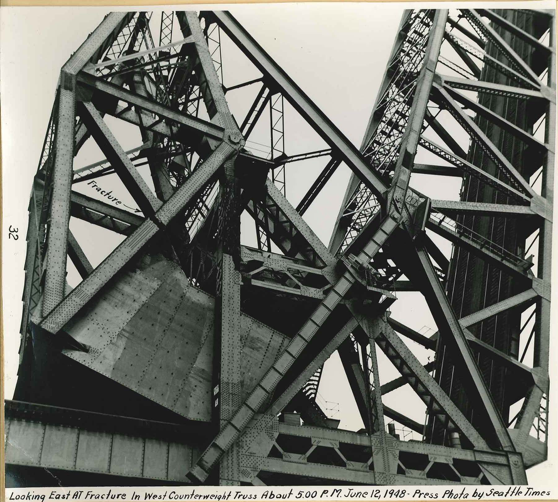 BNSF is planning for the replacement of the rail bridge which spans the Lake Washington Ship Canal between Seattle's Magnolia and Ballard neighborhoods.  The bridge is a critical link to BNSF's network to the north, south and east.  About 30 to 40 trains cross the bridge daily, including Sounder and Amtrak passenger trains. Manufacturers, distributors and retailers depend on daily rail shipments that cross the bridge to supply their operations.  Shipments to and from the ports of Seattle and Tacoma rely on the rail line that depends on the bridge.
Built in 1913, BNSF has invested millions of dollars to maintain and upgrade the bridge over the years to extend its operational life.  But now, after more than 100 years of service, a new bridge is the best strategy to ensure continuing rail use of the crossing and vessel transit through the canal. In 1948, the steel counterweight truss on the bridge broke. When this occurred, the bridge was stuck in the open position for six months. At the time, our predecessor railroad had another route for train traffic. That route no longer exists.  There is concern that what occurred in 1948 could happen again as BNSF is seeing fatigue of the counterweight truss and the trunnion bearings wearing out. If BNSF leaves the existing bridge in place and makes only minor repairs as necessary, the bridge will continue to deteriorate, resulting eventually in a failure like what occurred in 1948.
BNSF is currently working with the US Coast Guard to solicit feedback from the maritime community about the proposed design of the new bridge. The proposed design is a vertical lift span, which would have 155 feet of vertical clearance. We are seeking input from the maritime community to ensure the vertical clearance meets current and future needs for vessels. More details can be found from the US Coast Guard at: content.govdelivery.com/accounts/USDHSCG/bulletins/2114a55.
Learn more about the bridge and the need for infrastructure investment here:  thelens.news/2018/10/11/the-need-for-rail-infrastructure-investment/