The BNSF Railway Foundation invests in the communities across the 28 states through which BNSF operates, and where BNSF employees live, work and volunteer. Recent donations include: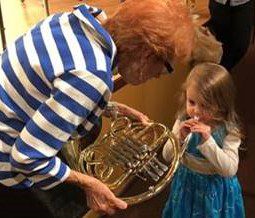 Providing Symphonic Experience for Low-Income Youth
Symphony Tacoma's Simply Symphonic program is an educational resource providing Tacoma-area youth a vivid introduction to live symphonic music. Thanks to a $2,000 donation from the BNSF Railway Foundation, Symphony Tacoma was able to waive the $3 fee for fifth-grade students from three underserved elementary schools in the area. The donation allowed for students from low to moderate income backgrounds to experience symphonic music.
Funding Emergency Care

EvergreenHealth Monroe's mission is to provide the highest quality healthcare to their community. As patient volumes have increased, the hospital has needed a second fully-equipped trauma room to fulfill their mission. To help the hospital care for patients in critical situations, the BNSF Railway Foundation donated $10,000 to help pay for all necessary diagnostic and interventional medical equipment needed for a second trauma room.
Helping At-Risk Families Keep Their Homes
The BNSF Railway Foundation recently donated $3,500 to Impact NW's Homelessness Prevention Services, which provides stability and support for families and individuals at risk of homelessness in the Portland area. With the funds donated by the BNSF Railway Foundation, Impact NW was able to help three families keep their homes.

Supporting Volunteer Fire Departments
BNSF cares about the safety of the communities we live and work in. The BNSF Railway Foundation recently donated funds to the Odessa Fire Department in Lincoln County, WA to purchase a Utility Task Vehicle (UTV), which helps battle fires in previously inaccessible areas.