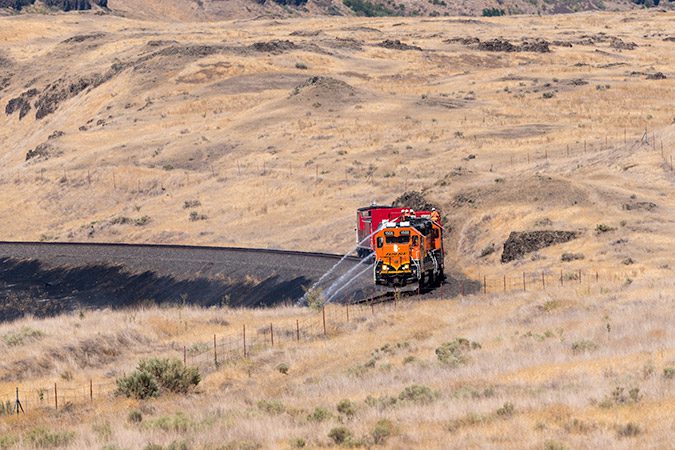 BNSF's rail network covers much of the American West, where wildfires are common due to high winds and frequent drought conditions. To combat wildfires, we have water-filled tank cars staged in fire-prone areas across the country.
In Washington State, BNSF has two unique firefighting apparatus in our toolkit: specially equipped trains that represent innovative approaches to tackling fires. The Pasco train consists of two tank cars, a "fire" car and a caboose that serves as a command center. Thousands of gallons of water are stored in the tank cars, while the fire car contains aqueous firefighting foam. The caboose is equipped with an onboard generator that provides power and can also be used to run work lights, radios and other emergency equipment.
Meanwhile, the Wishram train's generators, pipes and pump systems are located under three tank cars. The caboose is equipped with a spray bar and water cannon and serves as the command center when called into service. The Wishram train's focus is the south-central portion of Washington, including arid Benton County which has limited road access.
BNSF coordinates closely with local firefighter crews. The caboose transports firefighters to places firetrucks can't reach and where there are no water sources. Since the train's tanks carry 30,000 gallons of water compared to a firetruck's average of 500 gallons, our trains are useful tools for firefighters battling remote blazes.
More information: http://www.bnsf.com/news-media/railtalk/safety/fire-train.html.